Commodities provided by CMA Solutions
Soy
Corn
Wheat
Steer
Coffee
Cotton
Sugar & Ethanol
Rice
Bean
Chicken
Swine
Bioenergy
Find profitable opportunities in the market
Robust, strategic information terminals dedicated to the physical and futures brokers, traders, analysts and agricultural professionals in general.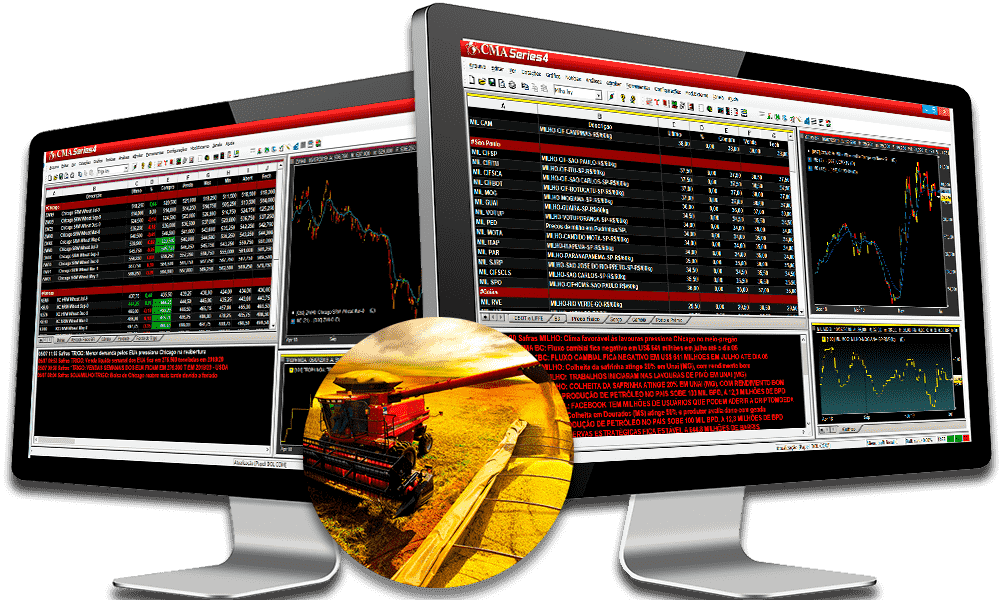 Information delivered by CMA terminals:

• Local and international prices
• Exchange
• Scenarios
• Harvest monitoring
• Planting intention


• Crop Evolution
• Harvest Forecast
• Marketing Volumes
• Awards
• Freight


• Exports
• Indexes
• Economic indicators
• Real time news

Secure information and data
Get to know some opportunity identification and negotiation modules that you find in CMA terminals:
Handbags
Physical prices
Coins
Economic indicators
Offer books
Alarms e stops
Graphic module
Technical Studies
Daily and weekly newsletters
Curvas de moedas e juros
Real-time news
Business reports
Offers and agents
Mobility for agricultural negotiations

CMA offers Customizable mobile Solutions that send purchase and sales orders in local (B3) and international exchanges. Applications are Moder N those updated inR eal time with stock quotes, physical prices, currencies, economic indicators and specialized agribusiness news.